Cooking with Vella Cheese
Vella Cheeses are delicious in cooking.
Preparing Vella Cheese for Cooking
When you cook with cheese, you typically will slice, shred, grate, or crumble the cheese before using it in your special recipes. Some of our cheeses are soft, like Toma, and other cheeses are very hard, like Golden Bear Dry Jack or Oro Secco. Here are some suggestions for preparing our cheeses:
Hand Slicing Cheese
While you can hand-slice any of our cheeses, Toma, our softest, moistest cheese, should only be hand sliced. Try putting a block of Toma into the freezer for a half hour before slicing will firm it up a bit for more uniform slicing. But don't serve Toma too cold or you will lose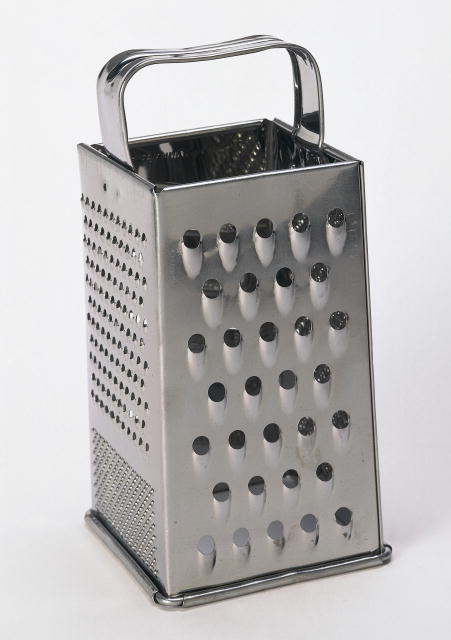 some of its delicious, creamy flavor.
Shredding Cheese
The High Moisture Monterey Jack Cheeses, either original or naturally flavored, do well either sliced or shredded. You can use a hand shredder or simplify your work with the shredding blade of a food processor. If you leave the cheese at room temperature for an hour or so, it will be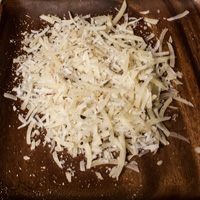 easier to shred.

Many of our Dry Jacks, including Mezzo Secco, Romanello Dolce, and Dry Monterey Jack shred very nicely as do our Italian Style and Cheddar cheeses. Many of our cheeses are coated with yummy flavorings such as pepper and chocolate, so definitely include the coating when you shred the cheese.

Grating Cheese
Our oldest, driest cheeses can be a challenge to shred. Grate them instead. Our aged dry cheeses: Oro Secco, Special Select and Golden Bear Dry Jack, and Habañero Dry Jack should all be grated into tiny pieces. You can do this with the grating side of a simple cheese grater, a box grater, or other specialty cheese grater of your choice (there are many to pick from). Like with shredding, you should include the flavorful coating as you grate. Grated cheese will be much finer than shredded cheese.
Relating Cheese Weight to Volume
Cheese is typically sold in blocks, wedges, or wheels—by weight. Recipes give volume measurements, like 1 cup.
So, how do they relate?
While each cheese may be different, we did a quick test.
We hand-grated Monterey Dry Jack with a box grater until we weighed out ¼ lb. of  grated cheese.
Yield: more than 1 ¼ cup of grated cheese.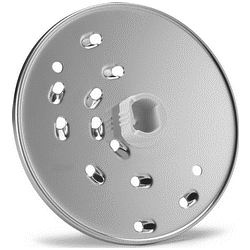 We then shredded and weighed out ¼ lb. of Monterey Dry Jack, using a (Kitchen Aid) food processor with this basic shredding blade.
Yield: more than 1 ¼ cup of shredded cheese.

In either case, you should grate or shred first, and measure second, as not every bit of your cheese will be processed.
But those left over hunks sure are delicious!!
Recipes
Here are some recipes for you to enjoy. You can download all the recipes, and print them if desired: Vella_cookbook.pdf.
* indicates a low-carb recipe or variation
Fried Cheese
1/2 cup fine dry breadcrumbs
1/2 cup grated Vella Special Select Dry Jack
8 half inch thick slices Vella Italian Style Table Cheese
1/4 teaspoon dried oregano
1 teaspoon garlic powder
1 beaten egg
2 tablespoons milk
3/4 cup all purpose flour
Vegetable or olive oil
Tomato salsa
Combine the breadcrumbs, grated Vella Special Select Dry Jack, oregano, garlic, and optional salt to taste in a small bowl.
Wisk together egg and milk in a separate bowl.
Place flour in a third bowl.
Dip each slice of Vella Italian Style Table Cheese into the flour, then into the egg mixture, and finally into the seasoned bread crumbs to coat generously.
Place coated cheese slices in a single layer on a tray to stand, uncovered for 10-15 minutes to dry. If the cheese is not completely covered with crumbs, repeat the process.
Meanwhile, pour oil to a depth of 2 inches into a heavy bottomed saucepan. Place over medium heat and heat until oil is hot but not smoking.
Carefully slide crumb-coated cheese into the hot oil and fry, turning once, until golden, about 2 minutes in all. Do not crowd the cheese slices in the pan or they will not cook properly.
Drain briefly on paper towels and serve with your favorite salsa.
Grated Dry Jack Popovers
1 tablespoon butter
1/4 teaspoon salt
1 cup milk
1 cup flour
1/4 cup grated Vella Special Select Dry Jack
2 large eggs
Melt butter.
Place oven rack on next to lowest shelf. Preheat oven to 450 degrees.
Combine milk, salt, flour, and butter in medium bowl.
Grease 6 deep muffin or custard cups and sprinkle with Vella Special Select Dry Jack and set aside.
Beat in eggs just until blended. Fill cups 3/4 full.
Bake 15 minutes, then reduce heat to 350 degrees.
Do not open the oven door.
Bake 20 minutes more.
Carefully remove popovers with spatula and serve immediately.
Jalapeño Jack Corn Bread
1 cup flour
1 cup yellow cornmeal
2 tbs. sugar
2 tsp. baking powder
1 1/5 tsp. salt
2 cups shredded Vella Jalapeño Jack
3/4 cup milk
2 beaten eggs
1 4 oz. can chopped green chiles, drained
Combine dry ingredients.
Stir in shredded Vella Jalapeño Jack.
Add combined milk and eggs, mixing until just moistened.
Pour into greased 9 inch square pan.
Bake at 425 degrees for 20 minutes.
Less spicy variation: omit green chiles
and add an additional 1/2 cup milk.
Spicy Vegetable Cheese Chowder
3 cups chicken broth
1 cup hot water
1 cup chopped potato
1/2 cup each chopped carrots, celery, onion, and green
pepper (vegetables may be chopped in food processor or blender)
1/4 cup butter or margarine
2 cups milk
2 tbs. flour
2 cups shredded Vella Jalapeño Jack
dash pepper
1 tbs. minced parsley
Pour chicken broth into a large pot and bring to boil.
Add chopped vegetables. Cover and simmer for 1 1/2 hours.
In a small bowl, combine milk and flour and mix until smooth. Stir slowly into hot vegetable broth.
Add shredded Vella Jalapeño Jack, pepper, and parsley, and stir until thickened (about 7 minutes).

Makes 6-8 servings.
Macaroni and Cheese
1 lb. macaroni
1 lb Vella Sharp Cheddar Cheese (shredded)
1 cube (1/4 lb.) butter
1/2 cup flour
1 quart non-fat milk
dash of white pepper
Cook macaroni "al dente" and drain.
Make a white sauce. In a thick bottomed pot over low heat. Melt butter, add flour, and stir for 5 minutes without browning. Add milk and cook until sauce thickens.
Add 2/3 cup shredded Vella Sharp Cheddar Cheese and pepper, stirr until the cheese melts, and remove from heat.
Add macaroni, and stir to coat with sauce.
Pour mixture into 2 1/2 quart casserole, top with the remaining Vella Sharp Cheddar Cheese, and bake at 350 degrees for 30 minutes.
Curried Broccoli or Potato Soup
2 tbs. butter (ideally Vella butter, obtained at the factory)
1 medium onion, diced
6 cups chicken broth
2 large potatoes, cubed
4 carrots, thinly sliced
1 cup milk
2 cups shredded Vella Sharp White Cheddar Cheese or Vella Daisy Cheddar Cheese
1/2 lbs broccoli, separated into stalks. Reserve a few flowerettes for garnish.
With broccoli:
Melt butter in an 8 quart pot over medium heat.
Add curry powder and onion. Cook, stirring, for 5 minutes.
Stir in broccoli, potatoes, and carrots. Reduce heat, cover, and simmer until potatoes mash easily (about 30 minutes).
Puree soup, return to pot, and bring to boil.
Stir in broccoli flowerettes and milk.
Reduce heat and simmer 5 minutes.
Slowly stir in shredded Vella Sharp White Cheddar Cheese or Vella Daisy Cheddar Cheese.
Serve when cheese is melted.
Optional: season with crushed garlic cloves and 1 tsp. Asian chili sauce.
With potatoes only:
Omit broccoli and increase to 4 potatoes. Follow above directions.
3 Cheese Chicken Breasts in Tomato Sauce *
1/2 cup olive oil
6 skinless boneless chicken breast halves
1/2 large onion, chopped
2 large garlic cloves, chopped
1 tablespoon dried oregano
1 15 ounce can tomato sauce
1 14 ounce can Italian style stewed tomatoes
1/3 cup dry white wine
2 bay leaves
8 ounces penne, freshly cooked, or
for a low-carb alternative, serve on cooked spaghetti squash or whole wheat pasta.
1 cup shredded Vella High Moisture Jack
1/3 cup shredded Vella Asiago
1/3 cup grated Vella Dry Monterey Jack
Preheat oven to 375 degrees F. Butter 9 x 13 inch glass baking dish.
Heat oil in heavy large skillet over high heat. Season chicken with salt and pepper.
Add chicken to skillet; sauté until outside is white, about 1 minute per side; transfer to plate.
Add onion, garlic and oregano to skillet and sauté until onion begins to soften, about 4 minutes.
Add tomato sauce, stewed tomatoes with their juices, wine and bay leaves and cook until sauce thickens breaking up tomatoes with spoon about 8 minutes; discard bay leaves.
Line prepared dish with penne, arrange chicken over it, and cover the chicken and pasta completely with the tomato sauce.
Mix cheeses in small bowl. Sprinkle cheeses over sauce.
Bake until chicken is just cooked through and sauce bubbles, about 20 minutes.
Serves 6.
Baked Polenta with Italian Style Table Cheese
Polenta is layered with Vella Italian Style Table Cheese and cream in this decadent casserole. Offer it with sausages and tomato sauce or on its own as a brunch or lunch dish.
4 1/2 cups water
2 14.5 ounce cans chicken broth
5 shallots minced
4 teaspoons dried marjoram
2 1/2 cups yellow cornmeal
1 pound Vella Italian Style Table Cheese, shredded
1/2 cup whipping cream
Preheat oven to 350 degrees F.
Butter 8 x 13 inch baking dish.
Combine 2 1/2 cups water, broth, shallots and marjoram in heavy large Dutch oven; bring to boil.
Mix 2 1/2 cups cold water and cornmeal in bowl. Gradually mix cornmeal mixture into broth mixture. Return to boil, stirring often about 10 minutes. Season with salt and pepper.
Immediately spread 2 cups polenta in prepared dish top with 1 1/2 cups Vella Italian Style Table Cheese. Drizzle with 1/2 cup cream repeat layering using 2 cups polenta, 1 1/2 cups Vella Italian Style Table Cheese and 1/2 cup cream. Top with remaining polenta and spread remaining cheese over the top. Cover with foil.
Bake covered polenta until hot in center, about 1 hour and 15 minutes. Uncover; and continue baking about 10 more minutes until the polenta bubbles at edges and the top begins to brown.
Serves 10
Potato Skins with Bacon and Cheese
A favorite steak dinner starter served at Cattlemen's Steakhouse in the historic Stockyards City area of Oklahoma City.
3 medium russet potatoes
Vegetable oil
5 bacon slices
1 1/2 cups shredded Vella White Sharp Cheddar
1 1/2 cups grated Vella High Moisture Monterey Jack
1 tablespoon chopped fresh parsley
Cayenne pepper to taste
1/2 cup chopped green onions
Sour cream
Preheat oven to 425 degrees F. Scrub potatoes; pat dry, and rub skins with oil.
Place potatoes on baking sheet. Bake until potatoes are tender, about 1 hour. Cool.
Cut each potato lengthwise into quarters. Scoop out centers; leaving a half inch thick layer of cooked potato on skins. Reserve the flesh for another use.
Brush the insides of the potatoes with vegetable oil. Flip the potatoes over, brush the skin sides with vegetable oil, and season lightly with salt and pepper. Evenly space the potato quarters skin-side up on an oiled baking sheet and broil until the skins start to crisp, about 2 to 3 minutes, being careful not to burn them. Flip the potato halves over and broil until the top edges just start to brown, about 2 minutes more.
Cook the bacon in heavy large skillet over median heat until brown and crisp. Drain and crumble the bacon into a medium bowl, and combine it with the cheeses, parsley and cayenne; sprinkle cheese mixture atop the skins.
Place in the broiler and broil until the cheese is melted and bubbling, about 4 to 5 minutes. Transfer the potato skins from the baking sheet to a platter, top each potato skin with dollups the sour cream and a sprinkling of green onions. Serve immediately.
Chicken Saltimbocca *
Low carb, flavorful, and easy to prepare. For a party, increase the recipe size, prepare ahead, and bake at the last minute.
4 boneless skinless chicken breast halves
4 slices prosciutto or other flavorful ham
4 1/4 inch slices Vella Rosemary Jack
1 cup grated Vella Special Select Dry Jack
Salt and pepper to taste
1/4 c. butter, melted
Preheat oven to 350 degrees.
Place a piece of chicken boned side up, between 2 pieces of clear plastic wrap. Working from the center to the edges, pound lightly with a meat mallet, forming a rectangle about 1/8 inch thick. Remove plastic wrap. Repeat with remaining chicken.
Place a prosciutto or ham slice and a slice of Vella Rosemary Jack on each cutlet, trimming to fit within 1/4 inch of edges. Fold in sides; roll up jelly roll style, pressing to seal.
Place grated Vella Special Select Dry Jack into a shallow bowl or plate. Brush each chicken roll in butter, then roll in grated cheese. Bake in shallow baking pan for 20 minutes or until chicken is cooked and cheese melts. Serves 4.
Olive Festival Toma *
This wonderful flavored Vella Toma recipe was created for the Sonoma Olive Festival--made with locally grown Coturri Extra Virgin Olive Oil and served on Artisan Bakers' Olive Bread. As a low-carb alternative, serve with crudités such as carrots, celery, or cucumber slices.
1 lb. wedge of Vella Toma, room temperature
1/2 cup finest Extra Virgin Olive oil
1 artisanal olive bread
sliced fresh with each slice quartered
1 tsp. chili flakes
1/4 cup fresh thyme leaves, chopped
Sea salt and black pepper to taste
Thyme sprige for garnish
Place the wedge of Vella Toma on a large round platter or bowl. Drizzle with olive oil and sprinkle with sea salt, pepper, chili flakes, and thyme. Allow to rest at room temperature for 30 minutes to enhance the flavors. Garnish with thym sprigs. Serve with fresh slices of olive bread paired with a zinfandel wine.
Herbal Cheese Toasts
The recipe given here uses basil and sun-dried tomatoes, but you can experiment with many other cheese, herb, and vegetable combinations. Suggestions follow the basic recipe.
1 thin baguette, cut into 1/2 inch thick slices
Olive oil
6 ounces
Chopped parsley to garnish
6 oz. shredded Vella Pesto Jack Cheese
(chill before shredding)
About 30 basil leaves
10 oil-packed sun dried tomatoes, quartered
Preheat oven to 400 degrees.
Brush both sides of each slice of bread with the olive oil. Place on baking sheet and bake about 8 minutes or until very lightly toasted. Sprinkle with cheese. top with a basil leaf and a tomato quarter. Return to oven and bake about 5 more minutes until the cheese melts. Serve immediately.
Makes 12-15 appetizers
---
Other recommended combinations:
Vella Jalapeno Jack and drained fresh tomato salsa
Vella Rosemary Jack with grilled chicken and red pepper strips
Vella Traditional Jack with fresh chopped garlic and green onions, or with a slice of tomato
Vella Sharp White Cheddar Cheese with grilled mushrooms cut into small strips and grilled red onions.
Sliced Vella Toma with braised spinach with garlic and basil.
(Toma is too soft to shred.) Chill it before slicing.
Baked Eggplant *
Low carb, meatless, and delicious.
1 eggplant, 1 1/2 to 2 lbs.
4-5 Tbs. butter at room temperature
Salt and pepper to taste
Chopped parsley to garnish
4 Tbs. grated Vella Special Select Dry Jack
Preheat oven to 400 degrees.
Peel the eggplant and trim off the ends. Cut the eggplant into 6-8 slices, each about 1/2 inch thick.
Blend the butter and grated Vella Special Select Dry Jack, and spread on both sides of each eggplant slice.
Sprinkle with salt and pepper.
Place slices in a single layer on a baking sheet and bake 15-20 minutes until the eggplant is tender throughout.
Sprinkle with chopped parsley and serve.
Basil Cheeseburgers *
Another quick, easy, and delicious main course
2 lbs ground meat (beef, turkey, chicken, or lamb)
1 egg, lightly beaten
Salt and pepper to taste
2 cups shredded Vella Pesto Jack
2 Tbs.grated Vella Grated Dry Monterey Jack
1 clove garlic, minced
1/2 cup chopped fresh basil
In a large bowl, mix the ground meat with salt, pepper, and egg. Divide into 6 portions.
Mix remaining ingredients and divide those into 6 portions as well.
Form each portion of meat around a portion of the basil mixture, and flatten slightly into a patty.
Preheat grill, broiler, or skillet and cook each burger to desired taste--approximately 5 minutes on each side for rare, 7 for medium, and 8 for well done. Serves 6.
Stuffed Zucchini *
A wonderful use for both medium and oversized zucchini
5 medium or fewer large zucchini
2 Tbs. olive oil
1 cup chopped fresh mushrooms
2 Tbs all-purpose flour, or 1 egg for low-carb version
1 cup (4 oz) shredded Vella High Moisture Monterey Jack
1/4 tsp. crushed dried oregano
Sea salt and black pepper to taste
2 Tbs. chopped pimento
1/4 cup grated Vella Dry Jack
Cook whole zucchini in boiling salted water about 10 minutes, or until barely tender.
Prepare the zucchini for stuffing. Cut in half lenthwise. For zucchini curl, cut a thin horizontal slice from the top of each zucchini half, without cutting through one end. Roll up. Scoop out center, leaving 1/4 inch shell. Chop center portion and set aside.
Make the stuffing. Saute the mushrooms in the olive oil for about 3 minutes, or until tender. Stir in oregano, and then remove from heat.
Stir in the shredded Vella Pesto Jack, pimento, flour (if used) and the remaining chopped zucchini. Remove from heat and stir in beaten egg for low-carb version.
Preheat broiler. Fill Zucchini shells, using approximately 1/4 cup filling for each medium sized shell. Sprinkle with grated Vella Dry Jack.
Broil several inches from source of heat for 3-5 minutes, or until hot and bubbly.
---
Stuffed zucchini can be assembled in advance, covered, and refrigerated for up to 4 hours. Broil 5-7 minutes instead of 3-5.
For variations, use one of the Vella Naturally Seasoned Monterey Jack cheeses and omit the oregano.
Parmesan Walnut Salad in Endive Leaves *
Parmesan Walnut Salad in Endive Leaves
Gourmet Magazine adapted this recipe from a salad made with butter lettuce at Ristorante Cibreo in Florence, Italy. Resist the urge to use a food processor. The salad looks more appetizing if you dice the ingredients with a knife. The Vella Cheese adaptation of this recipe was done by Cathi Giacopuzzi Beery. Thanks for sharing.
6 oz piece of Vella Mezzo Secco, sliced
1/8 inch thick and cut into 1/8 inch cubes. (or substitute one of the other Vella Dry Jacks, or Vella Asiago)1 small clove garlic
½ teaspoon salt
1 tablespoon mayonnaise
2 tablespoons fresh lemon juice
2 tablespoons olive oil
¼ cup finely chopped celery
1 cup walnuts or pecans, lightly toasted and finely chopped
¼ cup finely chopped fresh flat leaf parsley
4-6 Belgian endives, trimmed with leaves separated
Combine all ingredients except for the endive into a bowl and gently mix together.

Serving Method 1:
Mound 1 tablespoon salad onto each endive leaf, and place onto a serving tray

Serving Method 2:
Place salad into a small bowl and put it into the center of a large platter. Arrange endive on the platter and around the bowl to resemble petals on a sunflower.

Make ahead notes:
The salad mixture can be made up to 8 hours ahead and refrigerated.
The endives can be cleaned, trimmed, and their leaves separated up to 1 day ahead. Wrap the leaves in dampened paper towels in a plastic bag, and refrigerate. Just before serving, trim off any brown endive ends if needed.